SUPERMAN!!!
I really am a superman addict... Although im not that good in informations, I really love collecting superman stuffs.
Here are some of Superman informations...
The History of Kal - El
A.K.A. Superman
Young Kal-El was just over a year old, when his father, Jor-El (Great Kryptonian scientist) discovered that Krypton was no longer a stable planet, as evidenced by the planet-wide earthquakes. In typical science fiction fashion, the elders on the planet laughed him off.
Jor-El's plan was to revive the old Kryptonian Space Program, and move to another planet, most likely Earth. Apparently, his hobby was small-rocket-building, and he had just enough time to build one big enough to send Lara, his wife, and Kal, his son off to Earth. She declined, of course, because she felt without her extra weight, the rocket would have had a better chance to reach Earth. With a simple "Goodbye" and wish of "Good Luck", the small rocket took off for Earth as Krypton crumbled.
Editor's note: Every mother I've asked has said that she would have gone off with the only child!
--------------------------------------------------------------------------------
Baby Kal-El was in the rocket ship for about a year, and was just under three years old when the ship crashed near a roadside in Kansas, USA. Jonathan and Martha Kent happened to be diving by, and saw the crash. Bring the good hearted American souls they were, they went to see if they could help. Being an avid sci-fi reader, Jonathon even guessed that the craft was extra-terrestrial.
They rescued the small child inside, and put the rocket on the back of their truck. They left the child at the orphanage, and indicated that they wanted to keep him. They passed the requirements, and named the baby Clark, after Martha's Maiden name. His full name is Clark Jerome Kent.
Another Editor's note: There have been rumors that the baby performed all kinds of super-stunts, but most accounts state that Clark's super-powers didn't appear until in his teens.
--------------------------------------------------------------------------------
Editor's note, part III: At this point there is a clear difference in the "Modern Era" story and the "Golden Era Story", although both end in a similar fashion....
The "Golden Age Story"....
Martha passed away from an undisclosed disease when Clark was a young teenager. His powers were really developing at this time, and he became Superboy shortly before her death. Krypto was his super-powered pet. Schoolmate (and girlfriend) Lana Lang saw that Clark was Superboy, but kept his secret safe.
Jonathan Kent passed away from the same disease as Martha, still undisclosed, and called upon Clark to use his powers for the whole world. Clark then went off to The Big Apricot, Metropolis, and ended his career as Superboy.
Thus, Superman was born.
Editor's note: There is also a version where both had passed away soon after he went to Metropolis. This is one reason why the various stories of Superman were later explained in DC's Crisis On Infinite Earths. It turns out that there were many Supermen, from different timelines. Today, the modern early history is defined by the John Byrne mini-series, Superman: The Man of Steel.
The "Modern Age Story"..
Kal arrived on Earth in the same way, but as an infant. He displayed no unusual powers or abilities. As he grew, young Clark Kent was an extraordinary athlete. When he started showing the extra-ordinary powers, his parents told him the whole story. Shortly afterwards, he went to Metropolis.
Without a costume, or secret identity, he saved a "Space Plane", and was called a "Mysterious Superman" by Lois Lane in his first press story. In his confusion over the incident, he went home to the Kents, and came up with the whole secret identity and costume, which is made from some handy items from his Kryptonian rocket.
Upon his return to Metropolis, he gets a job at a great metropolitan newspaper, The Daily Planet, and begins his successful careers as both Clark Kent and Superman.
Some Superman movie pictures...
the first superman movie(1978)...
entitled
SupermanChristopher Reeve
- Clark Kent
Margot Kidder
- Lois Lane
Superman II
1980
Christopher Reeve
- Clark Kent
Margot Kidder
- Lois Lane
Superman III
1983
Christopher Reeve
- Clark Kent
Margot Kidder
- Lois Lane
Anette O'Tool
- Lana Lang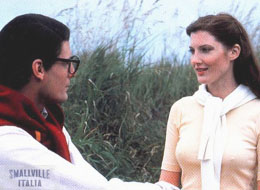 Anette O'Tool - Lana Lang
Superman IV: The Quest For Peace
1986
Christopher Reeve
- Clark Kent
Margot Kidder
- Lois Lane